Ottawa House of Prayer
National House of Prayer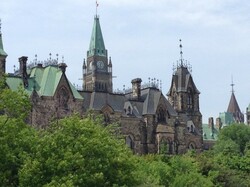 Today we woke up very tired because of the 2 hour time change. We started off the day with a great breakfast and brunch. We got ready and had a chapel after breakfast. Later we went for a walk to the Supreme Court of Canada. There we learned about Canadian law and what they do during a court trial. Afterwards we
walked to a gourmet candy shop. We bought lots of ice cream and candy to share with our families and friends once we get back to the Fort. After an exhausting walk through Ottawa, we came back for a delicious supper of ravioli, garlic bread,and ceaser salad. We then walked to the parliment buiding for a tour, (AKA, peace tower), then went back to the NHOP, wrote cards for our Alberta Members of Parliament, wrote our blog then off for a good nights rest. Hope to see you soon.
-Audra, Jason :P, Sophie, and James.
May 28, 2014
Today we woke up quite late due to the time change. Specifically Jason and James. We had a delicious breakfast then had a lovely worship session for two and a half hours. Afterwards we walked to the parliament building to visit the House of Commons. We watched a question period. For those who do not understand, it is when the opposition of the governing party is free to ask questions regarding bills that are looked over and being compromised. Afterwards we met one of our MPs, Tim Uppal. We then toured the peace tower and enjoyed the scenery. We then walked back to the NHOP to have supper and meet with another MP, Mr.Lunney. Quickly the day passed bye, as well as probably this whole week will. See you guys soon.
-Sophie, James, Jason, Audra
May 29th 2014
This morning we had the usual schedule of waking up to breakfast and a 3 hour worship period. After lunch we walked out to The Senat where we heard the sennetors discuss the bills which were undicided by the House of Commons. We then looked at portraits of past monarchs. Afterwards we walked around the market then went for a delicious buffet at Tuckers. We took a cab to Quebec to see the Museum of Man. We then came back home for a good nights rest. See you soon!
Jason, Audra, James, Sophie.