Vancouver 2018 Blog
Vancouver Missions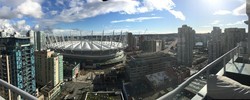 Grade 9 students will be traveling to Vancouver. They will be serving along side of a number of inner city ministries. A focus of the trip is to hear the voice of God and service.
Please be in prayer for:
-Safety while traveling.
-Hearing the word of God.
-Courage in responding to the word of God.
Arrived Safely!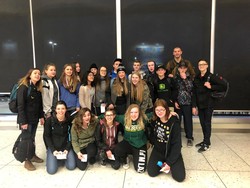 Hey everyone, we have arrived in Abbotsford safe and sound! The flight was great and we have made it to the Marks Centre. We've settled in our accommodations for the week. Everybody's enjoying the green grass and nice weather. We'll keep you updated throughout the rest of our trip.
-Solomon
Wednesday March 21st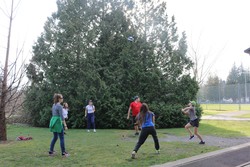 Yesterday, we arrived safely from the airport we drove to the Mark Center by Mr.Sr Charest in our amazing yellow school bus. Along the drive over we sang "Bohemian Rhapsody" by Queen the whole back of the bus started singing with us well others laughed along or danced along in their seats to our, not very nice sounding, tune. When we finally arrived at the Mark Center a lady named Esthie was very kind and welcoming to us. She first explained some housekeeping rules then she explained that the reason most people come to this center is to be at peace and to feel closer to God and come for a week or how ever long that they stay to just be devoted to God. This makes me happy because right now in my own faith, I don't really know what God has planned, or where God is planning to take, me or if He was even listening to me.
Later that evening we had a speaker come and talk to us, his name was Steve Klassen . Steve gave us some devotions and told us about how we have worth and WE ARE LOVED. Also, he let us know that God has a plan for us... we talked for 2 hours. At about 3pm we had one hour left and I had learned a few things, but not really anything that had a big effect on me. He then gave us 20 minutes to go and listen to God and let us go. I went outside and sat at a table where I had this urge to go and listen to the song, "You Are Loved" by Stars Go Dim. Quickly, I sat up from the table and went to my room on the upper floor and plugged the song in and just listened to it, right in that very moment I felt God's presence right in that very room with me and I started just to write and write and I finally realized from the words I wrote I am loved. Soon after that I started thinking about getting baptized but I was worried and a bit scared.
But that night Samuels Mantel came and prayed for us, the girl who came to me her first name was Danella, came and prayed for me and the first thing she said was this crazy image that made no sense but then she explained the image and it meant that my sins are forgiven all of them and that I am loved and will never be forgotten. This was when I realized that I am loved and I will never be forgotten.  ~Faithlyn
Thursday March 22nd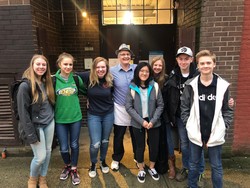 Today I was at Union Gospel Mission serving breakfast, I got the chance for most of the morning to sit down and have coffee with some of the street friends. I got to hear lots of different cool stories from many different people about how they got to where they are and why they were here in the first place. I heard one story that really stuck out to me, It was the story of a man named Randy.
Randy used to live in Edmonton and got to see the golden days of the oilers which he was really proud of. He had a job in Edmonton and got transferred to Vancouver his life fell apart in Vancouver and he ended up needing the help of UGM for meals. He didn't talk about his past much except for these words… "Union Gospel Mission saved my life. I was stuck and they helped me put my life back together because of what God is doing here. This is real life and God is so Good. This is what frontline ministry is." Randy's life is now back together and though Union Gospel Mission he was baptised afew years ago after accepting Christ. He is now helping at UGM and spreading the love of God to the same people in the same places he had been sitting in years before. This was really impactful for me because it showed me how effective these ministries actually are. "UGM loved me back to life because I was so lost." -Randy Jesus is really present in Union Gospel mission he is really working in this place. I was so honoured to be apart and serve in this ministry today. Hopefully I will return there tomorrow and be able to have more conversations with the same people.
-Will Cadwell
Today I served at the Sum Place with four other people. The experience was impacting becauses we not only got to serve, but we got to learn about what it is really like to be on the inside of a operation taylored to helping the homeless. The time and work put into an organization like that is amazing. Especially when most of the people there are volunteers, and are doing it out of the own kindness of their hearts, even though the people they are doing it for may treat them badly and they receive nothing in return.
Most of my time I spent serving food and chopping vegetables, so I wasn't really given the opportunity to talk to anyone. However The small amount of interaction I did get, I learned that even though these people who have nothing and are in such terrible and sad situations, can still somehow  find the good inside of them to be kind and loving towards people like us who are complete strangers. That is one thing that I think will stick with me for awhile, because that just shows that nothing should break our spirits, especially when we are so blessed and lucky.
                                   -Bailey Pollard
Today I served at the Nightshift Ministry. I spent a lot of the time helping sort donations for the homeless. We emptied out boxes filled with things like soap, toothbrushes, warm clothing and more. I really enjoyed working at Nightshift. Even though I didn't interact with a lot of the people on the street, I still really felt like we made a difference. Even little things like sorting soap and lotion. I think the thing that impacted me the most was seeing the tents on the street. We drove through a street which had all of these tents where the homeless people lived. The people have probably experienced so much suffering and pain in their lives, even just trying to live their everyday life must be hard. When you live in a place like that, there's not a lot of peace or happiness. You have to worry about how to stay warm, how to get food, how to stay safe at night. You don't get a lot of fun or happiness. We take all these things for granted. Sometimes, we don't realize how lucky we are. I think that this experience will help me in the future. When I feel as though I don't have enough material things, or like my life is rough and things are too hard for me, I'll remember that I have so much things I should be grateful for, like the shoes on my feet and the roof over my head.
-Sarah Morse
Friday March 23rd
Today, after an early wake up, our group was split into three teams. Team Charest, team Johnston, and team Shimko. We went to three separate ministries and worked on different tasks. I was on team johnston, and our team made up of 6 people, went to S.U.M. Place                  ( Surrey urban mission ). We got there, and started by serving breakfast to the homeless people in the area. When we served them they often smiled and thanked us gratefully, and sometimes made some sort of joke. Jack served sausage, and took the time to make a staircase out of them in the dish by stacking them. He was very disappointed when he left and came back and his creation was destroyed by his teammates.
After, we helped the staff there clean breakfast up, and then prepared the next meal. We peeled and cut apples, sorted bread, and did dishes. A little bit before lunch was going to start, team Charest showed up because they were done at their ministry. They helped us serve lunch to the people again, and then we had time to sit with them while they ate, and listen to their stories. Some of the group and i sat with a older man named Andrew. He told us stories and taught us some tagalog (because he lived in the philippines for several years). He talked so much that he didn't have enough time to finish his food, so he had to take it to go.  We cleaned up, and drove to Fort Laney. We browsed the shops for a little bit before meeting up again to spend some quiet time with God. We took the time to just go and sit by the river, and journal and hear God. We are now on the bus, and we are heading to East Hastings.
Today was probably the most emotionally tough day for me so far. In the evening we went to street church in East Hastings. Some of us served hot dogs to the homeless and some of us sang worship songs, while others invited people from the streets in. Between songs a few of us willingly shared our testimonies. I didn't share mine but I got to serve hot dogs. The love I saw in them was amazing. I never knew how to see the homeless, I wasn't sure how they'd act around us. I didn't really know what to think but I know I didn't think I'd see such love and gratefulness. At one point we had to warm up frozen hotdog buns and it was about a five minute wait. When I gave the hotdog to the guy I apologized for the wait and he said I was great and he was so thankful for us and not to worry about it. Most of them smiled a truly thankful smile at me and it meant so much. We eventually ran out of hotdogs and had to turn people around, that was hard. One guy had gotten two hotdogs and he turned around and gave it to the guy behind him that only had one, leaving himself with only one hotdog instead. They watch out for each other and I think we should too. As Christians we do but I think that everyone should look out for each other. I have learned so much from the homeless in less than three days. After a bit our whole team went up and sang together. We kept the beat by clapping and one guy in the front clapped along to all the songs. The lady working there, Natalie, offered prayer to all who wanted. The guy walked up. I don't know what they prayed but he was praising God after. He was glowing.  I have been praying to be a light but I think I have seen more lights instead.
-Jaynie ~Faithlyn
   Today I worked at the UGM for the second day in a row. We got to work in the kitchen serving meals, clean up the dishes in the "dishpit", serve coffee with our street friends and talk with all the friends we had made from the day before. We also got to run a small chapel for our street friends. We sang and all shared our favourite verses with them. Our friends John stood up and got the whole crowd clapping while we sand 'My Lighthouse'.
   I met a whole bunch of cool people who I will never forget. I made two friends, Melissa and John, who were fellow canucks fans and could probably talk hockey for hours (I talked about hockey with them both days we were there). I also got to talk with a man named Randy who actually shared his testimony with me. It really touched me to see how open these people were, and how willing they were to share their testimonies with us.

                                                                                                             -Arwen 
Today I went back to the UGM for some more serving. Me and Kat had to cute cake and bag grapes. After that we went to the kitchen to serve the street friends scrambled eggs, "Meat Patties." with potatoes topped with gravy and toast. While serving me and Kat started to dance to the older music Roger was playing and he actually turned it up higher for us. After we served breakfast we served the cake and grapes. After we finished we went to go talk with Melissa and we talked about a lot of different things. The whole group did a chapel and we sung Ten thousand years and my Lighthouse. Eventually me and Kat went back into the kitchen and served lunch to the street friends. We served soup and egg sandwiches and the leftover cake.
In the evening we traveled to the street church in east Hastings to serve hot dogs. There were so many people that we kept running out of hot dogs and hot dog buns. We also served tea, coffee, and water. Closer to the end of hot dog serving we actually ran out of hot dogs and the people who were still in the line didn't get any, I felt so bad for them. During the hot dogs a group went up front and sang some songs for them. At the end the whole group sung a couple songs before there weren't any people left to listen.
I really enjoyed this last time serving the Union Gospel Mission. I got to step out of my comfort zone a bit and I actually talked with someone. I feel like I learned so much more about serving than before. .And I hope I could sometime go back to UGM and serve again. And I didn't get any of the free coffee so that's another reason why I should go back. I also really enjoyed giving hot dogs to the street friends even if it was frustrating at times.- Jaamie
Saturday March 24th
Today I went and served at nightshift ministries. I had the privilege of asking  our street friends for their prayer requests with my "twin", Miss Johnson. This was a very unique experience for me as I got to hear the stories of almost everyone there, unlike other ministries where I might only hear one or two. I got to meet these amazing people who had the most interesting stories, for example, one person told me about their music and asked me to look it up later. They also asked that we pray for their mental health and for their flu, I was a little taken aback at how casually they had asked for these. They did not seem to ask for our pity, only our prayer. They also stayed later, so that they could pray with the night ministries staff and volunteers at the end of the night. Even through this mental and physical illness, they had remained a loyal christian, and had stayed praying. I am so thankful for this experience and can't wait to see what God has in store for me and my team in these next few days!
-Chloey    
Today we got to sleep in until 9:00 am which was nice! I was up a little earlier so I grated some cheese and we sang some fun and upbeat songs! For brunch we had scrambled eggs, hash brown casserole, bacon, strawberries, and chocolate milk. That was probably the best breakfast ever! After that, we had Matt Bergen come to the Mark Center and share his life story, and how God turned his life around from drugs and gangs, to a Christian. It was really amazing, and he was a pretty cool guy! We went outside after Matt left, and did some spring cleaning. We raked and picked up sticks, and it was really good team building. We had about 15 minutes after that to get ready to go swimming at the Langley pool. It was so fun! There was a waterslide and a high dive, and we played charades while going off the high dive. When we were done swimming, we went to the cafe and lots of kids got slush puppies. I got a chocolate square and a cream soda slush puppy. We went back to the Mark Center, and went straight to our rooms to get ready to serve supper at Night Shift and SUM place ministries. I think my experience there was really amazing. We got to SUM place, and we set out some sleeping mats for the people that were staying there that night. We greeted the street friends who came in, and we chatted with them until we went and served the chili. After we handed out the chili, we talked with a lot of people, who seemed really lonely, and I think they were really happy to talk to us. One guy I talked to said he was a Christian, and then he gave me and Trinity some basketball tips. He was really nice and he said that he appreciated what we were doing. Later in the night, me and Sarah started talking to a guy named Keith. He was not very talkative at first, but when we started asking about his family, he was very happy to open up! He talked about his son being the highest scoring rugby player in Canada. He also told us stories about how he used to be a bodybuilder, and we probably talked about that for an hour! He also had some very sad things happen in his life, like his dad hanging himself, and his mom died of cancer while talking to him on the phone. But he stayed positive and was very glad that we were willing to talk with him. I loved serving the people there, and there is a stereotype that homeless people are careless and dangerous, but they are actually very kind and they really like it when they can connect with us and share their stories! I hope that someday I can come back and help the people here even more! I know that God is working here and touching the lives of everyone through us.
Sunday March 25th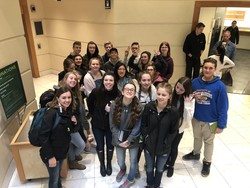 Today we as a group went to church in Vancouver after waking up at around 7:00. Westside is the name of the church we went to. Matt (the pastor) did a bit on how people like to either completely ignore the gospel, or they accept the cross. But on their terms. They like to keep the cross at a distance and only if they have control. In other words, they say that they have Christ in their lives and that He works wonders in their lives. All they live for is Him. Except for the fact that its all public image. They go to church and "pray" and all that good stuff, but deep inside they don't really care. A while back we as a class watched a series called a fan or a follower. It's kinda like sports in a way. You can be a fan, your there when life's good and have all the benefits. Your teams doing well, and you like where your at. But the second your team starts to fall you look elsewhere and fine a new team that's doing well. But if your a follower your there for your team in the good times and the bad times. In that it's the same with religion. When things get tough do you leave God amd look elsewhere or do you stay with Him through the good and bad no matter the circumstances.
After church we headed to Granville island to do some shopping. It was amazingly awesome because I got these squishy ball that have mesh over them so when give squeeze it bubbles. Anyway it was good. We then proceeded to East Hastings to serve at the street church giving free hot dogs to the homeless and sharing our testimonies to strangers. I think that lots of people felt relieved afterwords and touched lots of hearts. One guy even started dancing to some music with us and it was really fun. It just goes to show that just because their homeless, it doesn't mean that their all stone cold and drug dealers. Lots of them are, don't get me wrong, but they all have feelings and have people who care about them. Most of em'. I really like how this trip is influencing me . We have a chance to even get to know each other better too and I really like it.
-Jackson
-P.S. I'm a blogger bro.
We started off today with a great breakfast and a planning time for the Street Church on East Hastings Street. After finishing that planning time everyone got on the bus and we went to Westside church. I really enjoyed this church service, because it was different from a normal church service at Heartland. After church all of us walked to a ferry dock and waited for a boat to come and pick us up. Two boats came pretty quickly and our group split up to go on the two boats to Granville Island. We got to Granville Island in about ten minutes and we set a meeting spot. We all then dispersed around the island to get food for lunch and some souvenirs. I got lunch at a public market at a small pizza place with really good pizza. After looking around for a bit the time came to meet up and have our quiet time to read our Bibles, journal, reflect, and pray. Lots of the group stayed on the bus, but me and about six others went out to a park. During this time I finished my journal entry from the day before and started mine from today. When I caught up to the present time I started to pray for our trip to go to Street Church. Even though we had gone there before I was still nervous to interact with the people there and I was scared for everyone's safety. After this time we all got back on the bus and drove to East Hastings Street in Vancouver. We got off the bus and went up the stairs to Street Church and started to set up to serve hotdogs and play some music. The whole night went almost with no incidents except for one guy walking past us had no expression and only said "I am an Imagine Dragon". We all laughed pretty hard at that. I went in and out of the Street Church to ask people if they wanted to come in for free hotdogs and then listening to people talk during the talking portion of the service. All of the testimonies that were shared really opened my heart to those people in my class that were going through problems that I had no idea they were going through. After the service, when everyone was starting to clean up, me Will, and Mr. Roger walked to the bus. On the walk there I was thinking about how my prayer come true and that God really does have my back and will protect me.
-Thomas
Today started off like the other days that we've been serving in the cities and stuff. With waking up early, courtesy of Mr. Charest. But in all honesty, after waking up, we all had to go downstairs and plane what we were doing for the street church. That was pretty fun in all honesty. Then, well, we had to go to church, which was really nice, was a nice change of pace from what else of all that we've been doing this week. The service was really good, about the cross and how Jesus came to die for us on the cross, and how if we push the cross away, it's kinda like pushing away the amazing thing that God did for us, which was die for us. After that, we walked from the church to a ferry, which took a while because we had just missed one. However, we had to take two ferries, as one couldn't carry all twenty-two of us. The ferries had a little boat race to decide who would make it to our destination first, which turned out to be Granville Island. During that time, I hung out with some of the coolest friends I think I could possibly have. I ended up blowing a lot of money, but you know, it was totally worth it. During all of this, we had a little bit of QTOB (Quiet Time On Base), so I wrote in my journal, and read my bible for a bit, then we had to head off to the street church, where I shared to my testimony, which took a lot of effort. Due to the fact I started to cry again. But, in total, I believe that during all of this, I met some pretty nice people, and I think we did some good work.  -Tia
Monday March 26th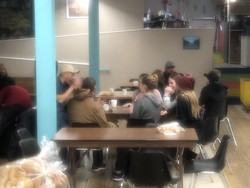 Today we woke up at 8 am, my personal experience was Mr. Charest sticking his head in the door and yelling "WAKY WAKY EGGS AnD BACCY!" , Which by the way, there definitely was not eggs and bacon but rather cold cereal and fruit. We had a morning quiet time, sitting around the Mark Center campus, reading and journaling some of our thoughts. We started yard work a half hour after. In days previous, we had begun raking and collecting leaves and fallen branches. But today was far longer and larger a project. We finished cleaning out the flower banks, and then began adding mulch, or at least the others did. I was assigned sawing through fallen trees with a blade I'm convinced is older than land beneath it. In other words it was like cutting steel with a butter knife .
After I conquered the tree, we had lunch. Now I'll note now that I was told to write MY personal feelings in this blog, and not just a recollection of the day. So this next part was not a group effort, more just mine, Will's, and Ty's. We decided we would have some fun, and got our amazing cook Mrs. Rietveld to place not 6, not 7, but 5 habanero peppers that Ty had bought at the market yesterday, inside of Solly's chilli. He rushed forward when his name was called to grab lunch, grabbed the waiting bowl of chili and ate several spoonfuls before realizing how dangerously hot it was. So I'll let you imagine the look on his face, it was priceless.
When we finished lunch and changed from the mornings work, we left for Stanley Park. This entire trip I have absolutely loved all the places we've been, so I was very excited to be going. The view of the ocean was amazing despite being very foggy, there were several large cargo ships departing and returning to the bays. Jackson and I decided to run along the rocks on the beach, slipping and drenching our feet on more than one occasion.
One of the exciting parts of this park was Hermanville (Pronounced Her-Mane-Ville). I met Hermanville as a result of jumping the fence by one of the cliffs by the ocean, and climbing down by tree roots. I was almost at the bottom when something jumped (And not screaming, I never have in my life for the record), when a fat raccoon scurried up the tree beside me, whom I later decided to name, Hermanville.
When we left the park, we headed towards Hastings once again. Our social experiment was to sit on the streets and notice how people acted towards us. As you can probably guess we were neglected in most cases and given polite smiles in some. I think the fact that I was unintentionally wearing $60 pants and bright blue Nike's  gave away that I wasn't actually homeless. But all the less it was interesting. After we walked around a bit in the rain, and each gave out a bagged lunch. People were very grateful.
Next we split into two groups, one of us going to NightShift, and another Sum Place. We ate our supper (Bagged sandwiches similar to the ones given out ten minutes earlier) on the way there. I was assigned Sum Place, which I was very happy to hear due to the hard rain and almost freezing temperatures outside. We arrived and I did laundry with Jackson and Bailey for the first twenty minutes, and everyone after that I was in the kitchen washing dishes with industrial equipment. It was a pretty awesome day. I enjoyed working in the rain because I'm as weird as everyone that came here with me. It wasn't bad for a Monday.
-Jack
Today we went sightseeing to a couple of places like a beach which was really fun and a great place to get pictures done, but the main reason why I wanted to write the blog was because of the experience when we went around hastings. We did a social experiment where we sat on the street and saw how many people would make eye contact or start a conversation with us and I realized that if you are on the streets no one will pay attention to people on the street to the point that they would cross the street just to avoid us. After about 20 minutes we went around giving out extra lunches to people on the streets and many people were very grateful which brought me great joy. Through this whole day I noticed that people on the street will make allies which would make sense but it gets to the point where they would be right next to each other sleeping on the streets.     ~Trin
Today we started off by going to Stanley Park. We went to a beach and a viewpoint where you could see a huge bridge over the ocean. It was really fun, and we took a lot of photos. Next we went down to East Hastings street. We did a social experiment where we sat down on the street and tried to get people to talk to us, or even look at us. People would often stare at us, but when we looked at them or smiled at them they looked away. It was not a lot of fun being outside in the rain, with people ignoring you, and trying to look away from you. It really made you understand how these people on the street feel. Next time I'm walking down the street and see a homeless person, I'll be sure to smile at them. We also handed out lunches to the people on the street. They were very grateful for the food, and it made me think about how they were probably cold and hungry, and really needed that meal. I wish we had more lunches packed however, because afterwards a lot of people were coming up to us and asking if we had extras.After that, we went to Nightshift ministries. Jayne and I went around asking for prayer requests, which was very cool. We got to talk to lots of people. Nightshift is also outside, so I got soaked from the rain. All in all, today was a great day, and hopefully I will be able to dry off from all this rain soon.       - Sarah
Today i started off by pranking solly with chilli peppers then after we all got prepared to go we went to east hastings street and for a little while, i got to experience being homeless. I sat across from jack at a storefront and just looked people in the eyes and trying to make conversation. It was an eye opening experience and it was wet. Like really wet. Like picture standing in the shower while fully dressed and wearing a backpack and trying to stay dry was hard. It showed me how bad life on the streets would be. I really felt bad for the people that live there 24/7. After i served at nightshift and it was really fun. me solly and anna served chilli buns and sandwiches.
-Ty 
Tuesday March 27th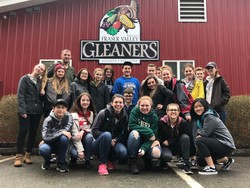 Today I woke up extra early to help Mrs. Rietveld make pancakes for everyone. Jack Arwen and Chloey came as well and me and Jack teamed together to make them. I poured the mix as Jack flipped them and the whole time he kept reminding me that I poured the worst proportions, however as I did so he was flipping the pancakes almost on top of each other. (not to sure how they are supposed to cook that way Jack?)
After that aggravating/interesting experience, we all piled onto the bus at 8 am ( which became 8:04 for me)  to head to The Fraser Valley Gleaners. When we arrived a lady explained what there organization was about. She told us that they took all the fruit that was considered 'unfit' for selling in stores and turn it into things like soup mixes that they send all across the world. Each bag of dehydrated soup mix they made equal to around 100 cups of soup. To put this into perspective the bag of mix was just a little bigger than a bag of jet puffed marshmallows, I had a hard time believing that it could make so much. Overall after around 3 hours of cutting up apples we were able to create 150 meals per person, which would be 3000 meals! It's insane what a few hours of singing and cutting our fingers can accomplish.
Well all of that was fun, I think that the best part of the day was definitely the bowling! Not because it was competitive, but the complete opposite. The whole time we just hung out fooled around and enjoyed the last of our time as a team. There were definitely some awesome memories made. However now it's over I am very sad that this trip has come to an end! (And yes I love my family, but I definitely could stay a little while longer! Sorry Mom and Dad.)
                                         -Bailey
Today I started off by going to Fraser Valley Gleaners. Fraser Valley Gleaners is a place where farmers give away leftover vegetables and fruits to this ministry. They turn those leftover fruits and vegetables into soup mix and dried apples. Throughout the whole morning 'til noon I was cutting some apples and during that I met this guy named Fred. Fred was a volunteer there ever since the beginning and he told me how the ministry had grown over the past few years. Afterwards we headed back to the Mark Centre and reflected on our personal selves. During that moment I have realized what a great impact this missions trip had on my life and throughout this week I've enjoyed serving in the ministries we've gone to.  
- Kat