Vancouver 2019
Vancouver Missions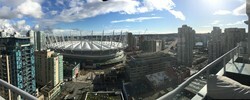 Grade 9 students will be traveling to Vancouver. They will be serving along side of a number of inner city ministries. A focus of the trip is to hear the voice of God and service.
Please be in prayer for:
-Safety while traveling.
-Hearing the word of God.
-Courage in responding to the word of God.
Wednesday Day 1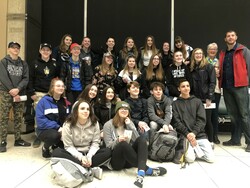 Hey guys! Today we successfully arrived in Vancouver and made it to the Mark Centre. It's a really beautiful place and I am definitely enjoying the warm weather! Steve Klassen (the director of the Mark Centre) came and talked to us about hearing God, and challenged us in our faith. We then had 30 mins of quiet time, and I really felt God revealing how incredible his mercy and grace is. I had a song lyric come to mind from the song "living hope", the song lyric is "who could imagine such great a mercy, what heart could fathom such boundless grace." When that lyric popped into my mind, I felt truly overwhelmed by God grace, mercy, and love. I know I will never be able to fully understand it, but that's what makes it so beautiful. Gods loves us in such a fantastic way, that no human could ever be able to understand.
I cannot wait for the trip to go on, and I'm excited to see what's in store.
During the evening Samuel's Mantle came to pray over us and our trip. I felt God speaking to me in many ways, and I heard answers to many questions. I felt a strong sense of God's comfort, power and mercy. I also encountered a new side of God that I've never really felt which is the fun and humorous side of him, and that was something I really enjoyed.
-Kara
Hey fam, it's Rose, today we landed safely in beautiful British Columbia and arrived at The Mark Center. I'm in the same room as my fav Jacey and we have an upstairs, unlike most people, so that's pretty cool.
After lunch, we had a speaker come in and talk about all the ways God speaks to us. Surprisingly most people didn't fall asleep during this session (not because he was boring but because we woke up at 3 in the morning haha.) To be completely honest when we talk about God's ways of speaking to us in Bible class I zone out, but he had stories and was actually interesting and impactful. I think he was impactful because we're in Vancouver and are thinking about our spiritual growth, and not just in class wanting to go home.
During that session we had quiet time to reflect and after we had a amazing lunch brought to us by Mamma Marj. After lunch we had a group of people come and pray for us and ask God about things we needed to hear about. During that time I had people pray and talk to me and I found it very impactful and thought it was a great experience. To be honest at first I didn't want to participate, but about 5 minutes into my first person who prayed and talked with me I thought it was amazing. All in all, today was great and I'm excited for what the rest of the week has in store for me. So thanks for reading have an AMAZING DAY :)
-Rose
We had Samuel's Mantle come and take to us about  futures and what they see us doing with Jesus. Also they changed around and it was interesting that so many of them had to say the same things. It was almost scary how accurate there descriptions could be about what they see in that person. God uses people to speak!
-Carter W
Thursday - Day 2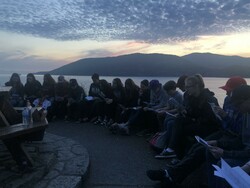 Hey guys! Today we started our ministries early in the morning. Some of us went to Sum Place, and the rest of us went to UGM (Union Gospel Mission) and served food. All of us had a great time starting out today, even though we were a bit nervous. Going and talking to our street friends really stretched our limits, but in a good way. It was a great experience and a really good way to start off the week. After doing ministry, we did some sightseeing and a small bit of hikin in the forests on the path. We got the chance to go across a suspension bridge while we were there. We did a lot of just chilling out in God's creation. Overall, the 2nd day of the trip went very well and I'm excited for the days ahead of us.
-Treyqqqqqqqqqqqqqqqq  
Hey everyone! It's Kathleen here! Today was a really eye opening day, and it all started at 5;45 in the morning. After breakfast we loaded the bus and traveled to two different ministries, Union Gospel Mission and Surrey Union Mission. Our team split in half, I went to Surrey Union Mission which is a place where homeless people can get a meal, shower and stay the night. We all worked on different jobs and my first one was to write thank you notes to all off SUM's sponsors. Many others also checked the expiration dates on various canned foods and set the expired ones off to the side. At first it seemed like a chore and work, but gradually I really felt like I was serving the kingdom of God in a small but significant way. When all the street friends came into the building for lunch we served them the meal and when they finished eating we asked them if we could talk with them.
I was nervous because some of them were high, but I said a small prayer to God to give me courage to be able to converse with them. I went up to a guy and he told me his story which was heartbreaking. The thing he made clear to Connor and I was that we should stay in school so we don't end up on the streets. By the end Connor and I were able to pray with him and share a small piece of Jesus with him.
After we finished serving and cleaning we went to Lynn Canyon to hike and walk the suspension bridge. It was beautiful and the weather has been awesome, it reminds me a lot of summer. We had a picnic in WhyteCliff park which is right on the ocean and one thing is for sure, it's so peaceful. After that we had quiet time and we were able to journal, pray and reflect on everything that happened today. As the ferries were passing by us and the sun was setting, I couldn't help but think about how great and powerful our God is. He made the waves and he painted the sky, our God truly is an awesome God. This trip has been a learning experience so far and I can't wait to see everything that is to come. Thank you for your continual prayer and support. That's all folks!    
-Kathleen
-Today for me started at sumplace but for others it was at UGM, we were able to serve the street friends of that ministry in ways that changed our perspectives, or at least mine. We went there expecting to see people that we may have had to defend ourselves from, but when we left I actually understood them. The people there were stuck in a deep pit that seemed to keep them down.
They were very nice and grateful but sometimes, because of their appearance, we forget to think of them as people rather than threats. Later we went to the beach and had a great time. This time really affected me because I was able to connect with God in a way I haven't since I was seven. Overall this day was very fruitful.
-Ben
Friday -Day 3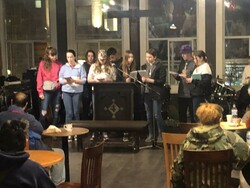 Hi guys, it's Emily! So today some friends and I went to SUM place  while the others went to UGM and we all served breakfast to our street friends. Then after lunch we went to East Hastings street, to the street church and my eyes were opened. I never imagined it to be like that, I thought that there would be people who needed help there but I didn't imagine people that were high and drunk walking around in the middle of the sidewalk and sometimes people would be walking on the streets while cars were passing them, but it seemed like they didn't care that cars were passing they just wanted to go where they were going. Some friends and I went for a walk with Mr. Charest and we saw syringes on the ground, that we are 99% sure that they were needles used for drugs.
During the street church service some people shared their testimonies and we sung songs, a few people that were there just came for the food and then they left but more people sat and listened to us sing and they listened to our testimonies and I think that they were touched but we are here to plant the seed of Jesus and pray that God will grow in them. There was a lot of emergency vehicles coming through East Hastings and it was sad because ambulances mean that someone is hurt or in trouble and I felt heartbroken.
There were a lot of police coming through East Hastings breaking up fights or saving someone from an overdose. Even during the church service we could hear so many sirens and I felt horrible. It was hard to take everything in because some of these people didn't want to end up like this. I shared my testimony along with a few other people and it was good because I felt like I spoke to people. We saw a lady who didn't have anything to do with the ministry we were serving at but she was giving people pizza which I found powerful because she didn't have to do it but she did. Even though it was a hard day and we saw hard things I still had a good day. Can't wait for tomorrow!
-Emily
Today I found telling people that understand what I am going through, like telling them what my bible verse meant to me. I told them that My mom is a drug addict and I have my own point of view.
-Phoenix
Hello! This morning we went back to UGM and Sum place where we went and served breakfast and got to know some people there. After doing that we headed back to the Mark Centre to cool down and rest. After lunch we headed down to East Hastings Street. Once we got there Connor, Riley, Emily and I and went for a walk with Mr. Charest and i was able to count that I saw 5 drug needles, 2 cop cars, 3 ambulances, and 3 fire trucks all within the time of being there. That just made me realize how bad things can be and it hit me, hard, really hard. Just seeing all those poor people. Some friends and I shared our testimonies, and for me I thought it would be nothing more than like reading scripture at church, but it was way harder than that. It really struck me hard and I broke down just realizing how unsafe and how hard it is.
To me sharing my testimony was a good thing and my future self will thank me but having to back into the stories I told I felt like I could really connect to anyone, because we all have our difficulties and we can relate in our own ways. But after today i feel exhausted just mentally but it feels like a good thing just as much as it feels tiring.
There's always so much going on there, so many sirens and needles and powder on the ground, and cops all over the place and it feels really unsafe and i can relate to that ona personal level but what i've realized is that when serving the people or just telling them about free food, the tough circumstances they are going through, they are so polite and kind, kinder than some kids who have so much, if you went up talked to them, some would do anything to have a conversation, and it felt really nice to help someone with something that i might take for granted but to help them have it, it's one of the best feelings, just to help someone have something they couldn't get on their own, it's a really good feeling. Anyway goodnight!
- Mia
We started off the morning going back to UGM and Sum Place. When I was at UGM I got to talk to this guy named Randy, he shared his story off how he was going to commit suicide but he started to go to UGM and he was lead to God there and even though he is no longer homeless he still comes because he feels like UGM and the people there where his family. We also went to street church on East Hasting street and Emily, Connor, Mia, and I got to walk down the streets with Mr Charest and got to see what it was like on the streets. One thing that stood out to me is we were walking in the middle of all the people where it stunk like pee and marijuana then we walked about 30 more feet and we were smelling fresh pizza and in the middle of fancy restaurants and it was like what was happening on East Hasting street wasn't even there.
-Riley
Saturday Day 4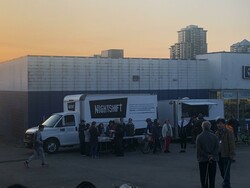 Hello! It's Eden here, coming at you with today's blog post! We started off today with a refreshing sleep-in, after that Mama Marj and Señor Charest prepared us a scrumptious brunch. In the brunch included pancakes, eggs, sausages and bacon and fresh fruit. It was a great way to start off the day.
Next we had our quiet time, it was a good time to reflect on all the events of the previous night. We had a special guest by the name of Graeme Fowler come and talk to us about youth and some of the reasons that poverty happens. He also mentioned the systems that are available to the youth in those unfortunate situations.
We had the option to go swimming today, a few people stayed behind, but myself and the rest of the team headed to the pool. We had lots of fun swimming, chilling in the hottub, ripping down the waterslide, and of course, jumping off the high dive. Though it took longer for some to gather up the courage to jump, and immense amounts of encouragement, a majority of the team ended up doing it. Next, we headed back to the Mark Center to get ready for the ministries that we were headed to in the evening. We had a delicious supper and than we were back onto the road. In case you were wondering, we pass the time on the bus by playing One Direction, Africa, Bohemian Rhapsody, and many other various songs, then we proceed to scream-sing them extremely obnoxiously at the top of our lungs. Other bus time activities include, waving and sending hearts to passing cars, making random unnecessary noises, sleeping, and writing blog entries.
We arrived at SumPlace and helped set up the cots. Our team split into two and half of us, including myself, went to NightShift and the other half stayed at SumPlace. At NightShift, we served food to our street friends and handed out clothing. Rose and I were given the task of prayer requests, we worked with a nice lady named Shirley who thought my name was Enid for a majority of the night. We would ask them if they had a personal request, if they said 'no' we would ask them if their family or friends had any. It was heartbreaking to hear so many people say over and over again how they didn't have any. We concluded our night at NightShift by joining hands in a prayer circle.
Today was Señor Charest's "39th" birthday! We had ice cream and a variety of chocolatey treats. We are going to have a debrief time than we are headed to bed.
Here's a few things that are too good to be excluded, the peculiar thing is that they both include hair; Malaya straightened Kai's hair and now he looks completely unrecognizable. Jayne gave Rose cornrows and she can surprisingly pull it off.
Excited to see what tomorrow brings!
Hola amigos, its ya girl Brit. Today, we FINALLY got to sleep in (praise the Lord). We woke up at 9 and had some breakfast. After that, this guy with the name of Graeme Fowler talked to us about his youth ministries, his commitment to the communities, and some of the reasons of poverty. He talked for a while and answered any questions we had about the streets and drugs. Then we read Luke 15:11-33 (the parable of the Prodigal Son) and was getting ready for our quiet time. We left to a quiet space and wrote down any thought about the story, most of us also took time to think/jot down everything's that happened yesterday, or over the time we've been here. Then Graeme prayed before our meal and we ate a delicious brunch that mamma Marj made. (IT WAS SOOO GOOD)
In the afternoon, we had the decision to stay back at the Mark Center or to take a dip in the Fraser Valley public pool. There we had lots of fun swimming and jumping off this really high diving board or on the gnarly water slide. We stayed there for about 2 hours then it was time to leave. When we left the pool we got a drink from this little coffee shop located upstairs from the pool. Then we loaded the bus and headed back to the Mark Center.
When we got there we we switched rooms and the people we were sharing a room with, so we had to pack up and move our stuff. Then it was supper, which was real good again. (If you couldn't tell mamma Marj is a real good cook) then it was time to load the bus again and head to either Nightshift or to SUM Place.
I was one of the people that was at SUM Place. Basically we made little cots for the street friends to sleep in. Then we continued to make food for them, pour coffee and talk to some of them. Most of the time, I was doing the dishes and made the spaghetti. Even though I just did that, I still found lots of joy in it. After a while, I got to switch out and talk to this one guy, he was very friendly but I only got to talk to him for a little while. Then we loaded the bus and came back to the Mark Center, which is where we are now. We are soon to be talking about how to introduce God into a conversation with a street friend. Now we are going to bed, peace out ma dudes… see you fam in about 4 days. Love you all
Hey everyone! Today we had a very chill morning.  We finally go to sleep in and then some of us went to Walnut Grove pool.  Of course the name of the pool made me think of Little house on the prairie.  Around 5:30, the entire group went into Surrey. The team got split in half, I went to Night shift and the other half of the group went to Sum place.  When I was at night shift I met way more people then I had before at street church and Sum place. I met this one man named Jim. He used to be a drug dealer, but he stopped doing that because he didn't want to be the reason that more people became homeless.  He stopped dealing drugs and is now doing chalk art throughout Vancouver. He has a website which he posts his art on and is started to make a name for himself as, Alberta Jim. I found it so cool how he turned his life around and is no longer doing stuff like dealing drugs and ruining peoples lives.  So far this has been my favourite day so far and it impacted me the most. I am still so excited and I am really looking forward to the days ahead.
~ Aliya
Day 5 Sunday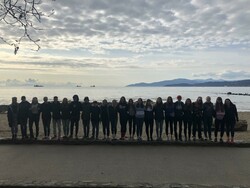 HEY GUYS ITS YA BOI JAYNE, BACK AT IT AGAIN WITH THE FIRST BLOG. Today we went to this amazing church; the worship was AMAZING and I loved the atmosphere so much. The building was beautiful and the people where inspiring. We then went to Granville market and we enjoyed the little shops and cuisine of the city, we then made our way to Stanley Park at which we enjoyed the sand and waves, and took a couple of pictures. It was so beautiful to see the ocean like we did. After that we were on our way to Street Church for the second time, it was a lot more relaxing the second time and I felt a lot more at ease. When home for a good hearty snack and off to bed for the next day of adventure.
Hey guys, it's ya boi Abz comin' at y'all with da blog post. Today we started off with an early morning and we had an amazing cold breakfast including some hard boiled eggs, and some AMAZING hashbrown casserole. And then we were off to church!
We continued our day by heading to Granville Island. And thankfully, there was no rain. We ate lunch and just enjoyed some free time. Then, we headed to Stanley Park where we spent some quiet time with God. And then enjoyed some volleyball on the beach.
We ate supper on the bus on our way to Street Church which included knock-off brand cheezies, apple chips, some carrots, and veggie chips. At street church we served hot dogs and coffee. And we also got to listen to some testimonies. And some people from the street also shared their testimonies. Today was a god day :)
-Abi
Hey everybody! To kick off our Sunday, we went to a church in central Vancouver called WestSide. It was a really beautiful building with marble floors and mirrors covering the walls in the staircase. The worship was really good and we overall really enjoyed the service. After we headed to Granville Island for lunch and to explore. It was really pretty and interesting, and I loved how much art was down there.
Then, after that, we went to Stanley Park for some quiet reflection time by the ocean. It was really pretty and peaceful. The last thing we did was go to street church on East Hastings Street again. I was kind of scared at first but it was ok after a few minutes. It was a really interesting night and I'm glad we could help all the people that we did.
-Nyah
Monday Day 5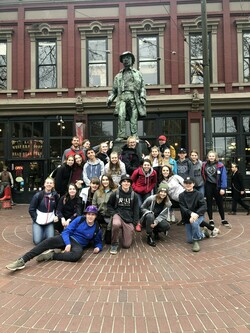 Hey guys! To start our day we helped out at the Mark Centre by raking, putting mulch in the gardens and trimming leaves. We spent about two hours and a half doing that. It was really fun, but it got pretty hot. After that we made lunches to give to our street friends. We gave them the lunches at tent city in Oppenheimer Park and we got to eat our lunches in groups with our street friends.
Then, we did an exercise where we sat on the ground for about a half an hour, to see what it's like to be sitting on the streets. I learned that so many people won't even look at you and they just kinda walk over us. Where I was, my group only had one person talk to us, asking us if we were okay. I thought this exercise was cool but it's sad to see how people treat people who live on the streets.
After that we headed off to S.U.M. Place and Nightshift. I went to Nightshift and got to serve food there. I also talked to this one guy, who started to sing a song to us. It was a good day hopefully our last day will be good too.
This trip has brought me closer to God, spending more time with Him. Also its crazy to see that people just walk past people on the streets without even looking at them or giving them a smile. I've learned to make people feel seen.
-Malaya
Hello fellow Chiefs!  Its ya boi Kai here. Today was officially day 5 in Vancouver, and it turned out to be a meaningful day too.  Pretty much the plan was to move a titanic pile of mulch and spread it around the Mark center, and then hand out bagged lunches to Homeless people in the Oppenheimer Park, and finish off with doing work at Night Shift SumPlace ministries.  
    I feel like moving the giant pile of mulch was a much anticipated activity the Mark center staff were waiting for, because they would often bring up how much they enjoyed last year's team doing it.  So for about two and a half hours we worked heartily (most of us) and with partial credit to the gorgeous weather, we finished in a quick and neat fashion leaving everyone somewhat satisfied with a sense of achievement and ready to eat lunch.
After doing the yard work at the Mark center, we ate lunch and chilled out allowing ourselves to recoup before leaving to downtown Vancouver.  I have no idea what happened during the bus ride to Oppenheimer Park because I fell asleep. But when we arrived, all the people living in the Park noticed us, but didn't seem to take too much acknowledgment.  We went around the Park walkway giving out lunches we prepared, and attempted to strike conversations with whomever we would meet. I met a few people, and was lucky enough to have a good chat with them before they were on their way.  One man I met was enthusiastic that our team was doing missions back into Vancouver, and he seemed very keen on telling us about the political hierarchy of Vancouver's social class. I had ran out of food, so I kindly offered him a piece of gum before talking:)  
We also ended up trying a social experiment as a team in separate groups in Gastown (Which was about three blocks down from East Hastings).  We would sit by ourselves on the street and observe how passing people would acknowledge and interact with us. In conclusion, most people would do a double take when they saw such young people alone on the street, but would still avoid eye contact, or social interaction.  I guess I learned that acknowledging or even just smiling at a random dude can make a huge difference to him/her because most people would just ignore him/her.
The final part of the day was serving at SumPlace and Nightshift ministries.  Today was my turn to work at Sumplace, and I was excited to interact and chat with people coming there to sleep.  I ended up helping make the giant portions of chili and salad, and setting out to eat supper with someone sitting alone.  I met this man named Jeff there. He was a Christian, but he had problems with his habits and addictions so Phoenix and I decided to pray for him and the Chaos going on in his life that was causing him stress and insomnia.  I read to him words of comfort from Philippians 4:6-7, and left him to get ready for bed.
To wrap up, today was a major day for learning and increased social interaction with people we had chances to meet and hopefully pray for.   I am hoping the last remaining days will be somewhat eventful, and lots of fun:)
-Kai
Hey guys, it's Jacey. Today we woke up, ate breakfast and got to work at the Mark Centre. We spread out mulch, cleaned the bus, and more. We had a really good taco lunch after that, and then made lunches for us and homeless people. After that we got on the bus and headed out to tent city in Vancouver. We shared the lunches we made with them, and had conversations with people. Following going to tent city, we went out on the streets to do a social experiment of what it felt like to be on the streets and what people treated us like. It was really eye opening because I noticed barely anybody made eye contact with me and one guy even jaywalked just to avoid us. We headed to Nightshift and Sum Place and the class got split in half to go to each place and I went to Nightshift and got paired up with Nyah. We got the task of serving drinks to people, and even though it was cold and raining, it still felt good to make people smile. After that our group walked to Sum Place and we ate some chili and coleslaw and now we are headed back to the Mark Centre. Overall I had a great day!
-Jacey
Tuesday Day 6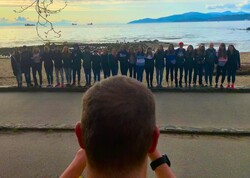 Hi Fort Christian it's Connor. Today was our last full day in Vancouver and we spent most of it a Fraser Valley Gleaners, a non profit organization that use crop that is not fit for grocery stores but still good for made just-add-water soup mixes sent overseas to countries in need of it. They did the math, and with every hour of work you feed 150 people. Unlike the rest of you volunteering here in Vancouver, we will never see the people it benefits but it sure does make a difference.
    Later we shared our most impactful moment to recap and see how much everyone has grown over the course of the week. We finished the day with some well earned bowling and came back home for our last sunset of the trip. You stay classy FSCS.
Hey guys, it's Charis. Today we started off the morning relatively early, with Mr. Charest coming and banging on our door around 6:45. For breakfast we had leftover food from other breakfasts, and headed out to the Fraser Valley Gleaners at 8. It was raining for the majority of the morning and during the bus ride there.
At the Gleaners we worked on putting together and packaging their freezer-dried soup packages. Onions were being cut as we did so, and we spent the whole time crying our eyes out because the aroma was so strong. Nyah and I were partners packaging the soups and had a race with Rose and Britlyn as to who could package more. Nyah and I won.
I met a very nice lady named Ilene while I was there, who was very encouraging and kind to Nyah and I every time we messed up. We talked a bit with her and learned a bit of her story. We finished up at the Gleaners with a (poorly sung but well received) worship song and by the time we were done the sun was shining.
Back at the Mark center, we ate a delicious lunch of hamburgers and hotdogs and then spent a few hours debriefing. It was really cool listening to what my classmates had to say about the characters of each other, and how much we had all grown over the course of the week.
After that we went bowling which sucked because I suck at bowling but it was fun watching other people have fun. I ended with a whopping total of 40 points which was fantastic.
Anyways today was an amazing way to wrap up our time in Vancouver, and I couldn't have asked for better people to spend my time with.