Back to all posts
Posted on
Your Future: Post-Secondary and Career Fair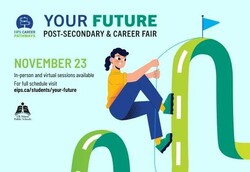 Thinking about attending post-secondary school after graduation? Exploring career options? Not sure on the career or sector? Plan to attend this year's hybrid Your Future: Post-Secondary and Career Fair on Tuesday, Nov. 23, 2021—the event is free and recommended for all students in grades 9-12.
The in-person portion of the event brings together a wide variety of colleges, universities, polytechnic and private schools, and sector experts in one place. The in-person event will follow the provincial Restrictions Exemption Program, as well as adhere to Alberta Health Services and local guidelines. As such, guests will need to show proof of vaccination and identification to attend. The virtual component will include additional opportunities to attend sessions from numerous colleges, universities and career sector experts.
Participating students and family members in either the in-person or virtual sessions will have the opportunity to meet with representatives from post-secondary and career vendors, ask questions, talk to experts about various career sectors, learn about future career trends and much more.

Event Details:
Date: Nov. 23, 2021
In-person: 6:30 to 8:30 p.m.
Location: Strathcona County Agora, 401 Festival Lane, Sherwood Park 
Virtual: Times and schedule to be confirmed
A detailed list of vendors will be posted on the Division website as soon as it's finalized.