Local Missions
Saddle Lake Christian School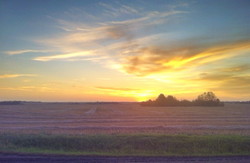 In the fall of 2009 we began to build relationship with Saddle Lake Christian School, a small three classroom ACSI school on the Saddle Lake Cree Nation. The school presently serves approximately 25 students and provides tutoring for distance learning Jr. High students twice a week.
Our general school population has been enriched by this relationship that not only increases the awareness of issues relating to FNMI communities, but also creates a positive awareness in our students that celebrates FNMI culture, heritage and strengths. As we continue to reach toward the goal of building bridges of trust and friendship with Saddle Lake Christian School, our students will continue to benefit from involvement initiatives that provide opportunities for service as well as promote student partnerships within an FNMI community.
Outreach in our Community
One of the pillars at Fort Christian is Outreach.  We strive to set as a priority reaching out to those in our community.  Each class has been allocated seed money from our CHREDA board to partner with a local group or individuals to provide encouragement and make a positive impact.  We trust that our students will catch the vision to be the hands and feet of Jesus to those around them.  
One local outreach group that elementary students will be partnering with this year is the Fort Saskatchewan Food Bank.  Throughout the year, students and their families will have the opportunity to contribute to the Food Bank and to show the love of Christ to those in our community in a tangible way.  In Junior High, students will have the opportunity to serve with a variety of local organizations inlcuding Habitat for Humanity, Mustard Seed, and Palm Ministries, and to be the hands and feet of Christ to our neighbours.